This January roundup of Flick Picks offers you the world. Multiple worlds in fact. We have any Oscar favorite and at least a couple of Oscar snubs. Patricia Clarkson wants to learn to drive. Matt Damon just wants to get home. Martin Freeman sports a funny mustache, while Mark Ruffalo really needs to stay on his meds. Read on.
78-year-old Ridley Scott show no signs of slowing down. The veteran director brings us another big story with The Martian. Matt Damon plays an astronaut assumed dead on Mars and left behind by his crew. And yet, emerging from the red dust is none other than botanist Mark Watney (Damon). How can he survive until help arrives? Watch and find out. We have The Martian in regular DVD and Blu-ray.
Amid a number of Hollywood studio pictures comes this excellent independent film from 2015, starring John Ashton (best known as the gruff partner of Judge Reinhold in the Beverly Hills Cop films). Ashton plays a well-respected carpenter in a small Wisconsin town who kills a local bully, covers up the crime and then tries to live with what he's done. The latter is made more difficult by the menacing brother of the deceased, who suspects him. Meanwhile, Ben, the nephew he raised, goes about his life in Chicago. When Ben makes an unexpected visit with a female friend, all the the lives intersect in difficult to anticipate ways. Uncle John is an example of smart, subtle and tense (and not without its moments of comedy) storytelling. In a better world, the veteran Ashton might be up for Beast Actor at the upcoming Academy Awards.
Also new: Robert De Niro and Anne Hathaway star in THE INTERN. Patricia Clarkson is a recent divorcee trying to become more self-sufficient. Ben Kingsley plays the Sikh driving instructor who gives her road and life lessons in LEARNING TO DRIVE. Joaquin Phoenix is the latest stand-in for director Wood Allen in IRRATIONAL MAN. Lastly, Mark Ruffalo plays a father trying to cope with his mental illness and raise two daughters in Boston while their mother works in New York. INFINITELY POLAR BEAR is rather quirkier, even funnier at times than it sounds.
SHERLOCK: THE ABOMINABLE BRIDE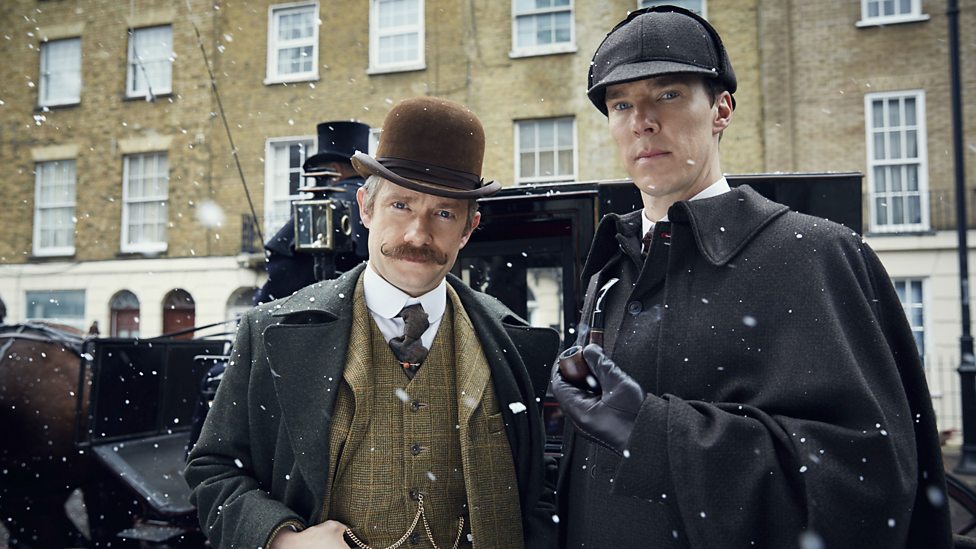 This special episode of the popular BBC/PBS series has Sherlock Holmes and Dr. Watson in Victorian London for the first time. Hence, the funny hats and the veritable rodent of a mustache atop Watson's upper lip.
The excellent Idris Elba (some would say overlooked by Oscar for his work in the film Beasts of No Nation) stars in the fourth season of this British crime series.
BROAD CITY, SEASONS ONE AND TWO
This charming Comedy Central series stars Ilana Glazer and Abbi Jacobson as two twenty-somethings making their way in New York. Look for lots of cameos from the likes of Amy Poehler, Amy Sedaris and Fred Armisen.
Also new: AGENTS OF SHIELD, SEASON TWO
Loosely based on the novel Ripley's Game by Patricia Highsmith (who initially rejected the film but was won over on second viewing), The American Friend finds director Wim Wenders (Wings of Desire) in noir mode. Dennis Hopper plays career criminal Tom Ripley, who convinces terminally ill picture framer Bruno Ganz (later the star of Wings of Desire) to join him in his illegal enterprises. A great mood film.
This critically-acclaimed Brazilian drama concerns a maid for an affluent Sao Paulo family who had left her daughter behind years earlier to be raised by relatives. When the daughter arrives to stay with her mother to take college entrance exams, thorny issues emerge. The Second Mother mixes comedy and drama while addressing economic disparities between its rural and urban regions.
db
---